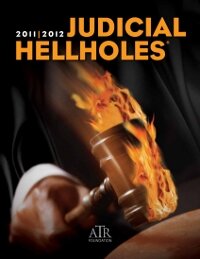 New York's famously plaintiff-friendly civil justice system is finally receiving the recognition it deserves. The American Tort Reform Foundation released their annual Judicial Hellholes Report today, ranking New York City and Albany as the sixth worst "judicial hellhole" in the country. Previously on the watch list in 2011, the warnings signs weren't enough to keep Albany and New York City from earning the dubious, if well deserved, distinction of "Judicial Hellhole."
Last year's report warned that New York's job creation rate lagged behind the rest of the country at just one-fifth the average rate. Moreover, the Empire State lost 393,000 jobs to other states. This year's report once again alerts the decreasing populations in central and western New York and the increasing loss of doctors to "low-tort" states such as Texas.
This report identifies various causes for our state's continued downward tumble to a "Judicial Hellhole" ranking, including our legislators' cozy relationship with the plaintiff's bar and certain elected officials who are blinded by personal gains from the desperate state New York is in. It also highlights the speech given by Corporate Counsel Michael Cardozo earlier this year calling for tort reform to help reduce the $561 million paid out by NYC for tort related claims in 2011. Various examples are given of the ridiculous lawsuits which clog our courts, drag down our economy and which ultimately put us as the sixth worst "Judicial Hellhole" in the nation.
Read our Press Release